| | |
| --- | --- |
| | |
| | |
Organised groups are invited to visit Laxton to see the unique farming system for themselves. Often they prefer to book a talk at one of their regular meetings and follow up with a visit. Tours can be arranged for organisations or private parties as required between October and June inclusive. The content of each visit is planned to suit the group's timetable. In a whole day, an introductory film followed by a tour of the village, the church and the open fields with breaks for lunch and tea offers many opportunities to tailor the visit to the particular interests of your group.
For shorter visits a walk and a film about the reasons for the survival of the mediaeval system to the present day may be preferred. A minimum of 2 hours is necessary for this, but a little longer is preferable.
Visit planning takes account of the nature of the party. To make the most of a walking tour everyone needs to be able to manage a minimum of 800m off road on uneven ground. For those able to walk with ease, tours of the open fields provide a real insight into the life of today's farmer in Laxton and how it is intricately bound to the heritage of the past. The duration and route of each walk is decided following discussions with the group organiser about their preference and the group's walking ability.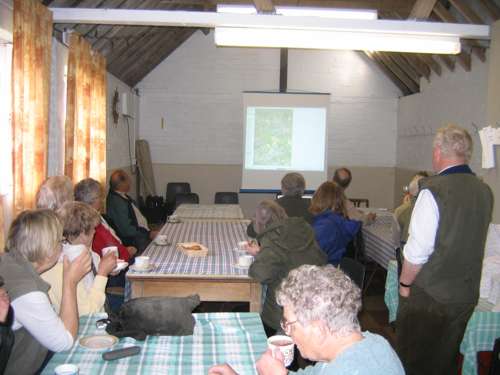 For those with lesser mobility, we can offer a driven tour of the open fields by prior arrangement. A mixed ability group can enjoy the introduction and refreshments together and split for the tours so that everyone gains maximum benefit.
Refreshments and meals can be provided by prior arrangement. An under cover facility seating approximately 25 is available. This can be used as a base for the day or as a refuge if the weather is inclement. For larger parties the Village Hall will be booked.
Please call to discuss your requirements.
Donations are invited for the upkeep of Laxton Heritage Museum, which is privately run.