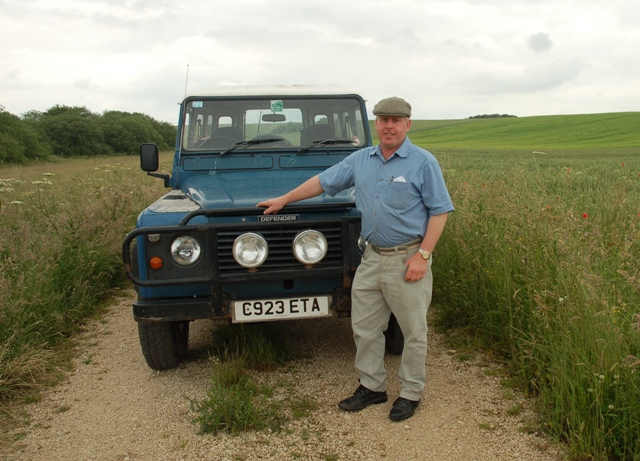 Welcome to the site for Stuart Rose, a farmer and lifelong resident of the historic village of Laxton, Notts; Clerk to the Gaits and Commons of the Court Leet and trustee of Laxton Visitor Centre.
Stuart gives talks at a venue of your choice about farming today in a medieval landscape and guided walks in and around Laxton.
Private groups are welcomed for visits or talks. Groups may be of any age and with the government promoting the importance of the learning to be gained from heritage sites to schools and colleges, a wealth of experience is available to any groups wanting to learn more about Laxton. Coming from a family heavily involved in education, Stuart is well aware of the requirements to study topics relevant to appropriate Key Stages in education and the preparation and planning that goes into school visits. Stuart welcomes invitations to talk to students of all ages in their school or college setting or to show them round his farm and the Laxton system.
Organisers are invited to call to discuss the requirements of their group and to decide the most interesting topics for them. If appropriate, teachers' educational materials can be supplied and assistance offered with risk assessments.
Laxton talks, walks and visits can be arranged with emphasis on any single topic or combination of your choice including:
Laxton's strip farming - the unique 3-field crop rotation system operated in Laxton's Open Fields

Laxton's manorial system with the unique Court Leet and Jury

Comparison of Laxton's modern and historic farming practices and equipment

Illustration of the chain from farm to food, with interactive activities for school parties

Laxton's operation of modern environmental and conservation practices

How Laxton's farming heritage shaped the architecture of Laxton village

Laxton's Church of St Michael the Archangel; it's history and tombs

Laxton Castle - one of the finest examples of a motte and bailey castle in the county
'Laxton Fields' has been designated a target area for Higher Level Stewardship by Natural England to promote conservation of the historic landscape and biodiversity. Click here for details of the scheme and click here for how it relates to Laxton.
Stuart is regularly contacted by the media for assistance in developing features on Laxton. He has collaborated with Michael Wood's production company for two recent television series; 'Country Life' magazine in the production of a six page feature on Laxton, assisting both the author and the photographer; Nottingham University's team researching an exhibition about Laxton; WAG Screen in providing advice, locations and props for the filming of three productions as well as other press and broadcast media.
The media, academics and event organisers researching Laxton past or present are invited to discuss assistance and support.
Locations arranged for filming

Information and photo opportunities for print media

Interviews arranged for radio or television

One to one collaboration with specific university research topics or teaching requirements.
For details call Stuart Rose on 01777 871702 or 07939 228353,
contact Bottom Farm
Laxton
Nr. Newark
Notts. NG22 0NU

or email stuart.rose@laxtonnotts.org.uk
Site last updated 23rd September 2019